Watch Video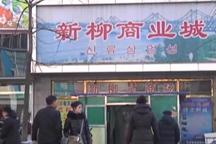 Play Video
The northeastern Chinese city of Dandong sits on the border with the DPRK. In recent years, trade there has been booming. But how is business now that Kim Jong Il has died?
This is the biggest trade market in Dandong. Jiang Qinglin runs a small crystal art craft shop. In these two days, Jiang says the number of customers from the DPRK has plunged.
Jiang Qinglin with crystal art craft shop owner said: "There used to be many DPRK people in the market from time to time, but today, none of them has shown up."
But the DPRK buyers are not Jiang's major customers. Their focus is goods for daily use. Their disappearance is a loss for the stores that sell food and household items.
Someone said: "They all went back home to mourn the death of their leader. We don't know when they will come back, maybe half a month at least."
But cargo transport across the Yalu River keeps going. Fully laden [LAY den] vehicles continue to head straight towards the DPRK one by one, carrying basic supplies.
Related stories
Editor:Zhang Rui |Source: CNTV.CN