Watch Video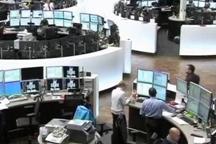 Play Video
Italy's short-term borrowing costs were halved at an auction of government billls on Wednesday, easing the immediate pressure on the country's economy. The market sentiment is optimistic on the selling of longer-term debt on Thursday.
There wasn't a great deal of trading but European shares rose on Wednesday after the cost of selling short-term Italian debt halved. A new austerity package in Italy and cheap long-term liquidity from the European Central Bank meant 9 billion euro of six-month bills sold for an average of 3.25 percent, half what they cost a month ago. Demand for them was also up. There's now optimism about an auction of longer-term Italian debt on Thursday. Manoj Ladwa a senior trader at ETX Capital says investors are getting used to costly sovereign debt.
Manoj Ladwa, senior trader from ETX Capital said: "There does seem to be a so-called new normal in the markets whereby investors are becoming more and more comfortable with higher bond yields. Italy is not Greece it does have a valid tax collection structure in place, it does have an export market and an import market etc so it's a bona fide economy and it is able to sustain yields well above seven percent, probably even nine, maybe even ten percent before it looks to the EU for a bailout."
The auction was the first since the ECB provided 490 billion euro in cheap three-year loans to euro zone banks. The unprecedented move last week was aimed at easing credit strains in the hope of improving the debt crisis. Since then bank-to-bank lending has fallen - Wednesday saw a fifth drop in a row - and banks still seem to be nervous of lending to each other. Latest figures show they've deposited 452 billion euro at the central bank - a record high - after choosing the safer low interest option for their cash. Some analysts now believe the ECB will further cut interest rates if the euro zone economy continues to decline.
Related stories
Editor:Zhang Rui |Source: CNTV.CN