Watch Video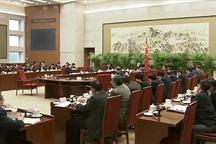 Play Video
Premier Wen Jiabao has presided over an executive meeting of the State Council, hearing a final investigation report into the bullet train crash that claimed 40 lives in July in Zheijiang Province's Wenzhou city.
The report says serious design flaws in signaling devices, equipment malfunction, and insufficient emergency response led to the collision. It was an accident induced by human faults.
The Railway Ministry and Shanghai Railway Bureau are blamed for improper rescue work, and for not timely releasing information to the public. 54 people held accountable will be given disciplinary punishment. These include Liu Zhijun, the former railway minister, and Zhang Shuguang, the Railway Ministry's deputy chief engineer. Both have been removed from office over an "severe violation of discipline" earlier this year.
Further correction activities will be continued, and more efforts will be put into the development of railway construction, operation and safety management.
Related stories
Editor:Zhang Rui |Source: CNTV.CN