Watch Video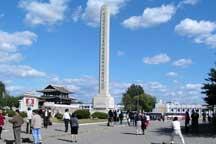 Play Video
The northeast Chinese city of Dandong in Liaoning Province rests on the border with the DPRK, where tour groups can cross between the the two countries. But now it is closed temporarily for two weeks, not because of the death of DPRK's leader Kim Jong Il, but because of a routine winter practice.
The sudden death of DPRK leader Kim Jong Il coincides with the winter season closure of DPRK tours. But it hasn't had a major effect on travelling yet. The closure is scheduled to be over next month, and travel agencies are open again for booking.
Dong Yan, Travel Agent, said, "Our travel agency is known for its DPRK one day and four day trips. A one day trip goes to a city right across the border. A four-day trip goes to Pyongyang, the capital of the DPRK, and other places of interest. Right now, we just have to wait for further notice if there is any change."
The DPRK is a neighboring country with lots of natural scenery, varying cultural, food, and entertainment. It makes for an attractive place for young Chinese students.
Zhang Ting, Student, said,"I am from Liaoning Province, and still a student. If I could afford the trip by myself, I would definitely like to go to see the beautiful mountains and taste local food."
The cost of a one-day trip is around 750 yuan, and four-day trip is around 2500 yuan. A country relatively less known by the world also arouses great interest for some western visitors.
However, not everyone can take the trip from Dandong to DPRK. South Koreans, Japanese and US citizens are strictly prohibited.
Related stories
Editor:Zhang Pengfei |Source: CNTV.CN