Watch Video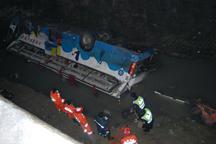 Play Video
16 people are dead and forty others wounded following a coach crash in China's remote southwestern province of Guizhou.
According to local authorities there, the coach was travelling from the city of Yiwu in Zhejiang Province, and was carrying 56 passengers at the time of the accident.
Snow and ice are blamed for the coach skidding off a highway bridge in Guiding county.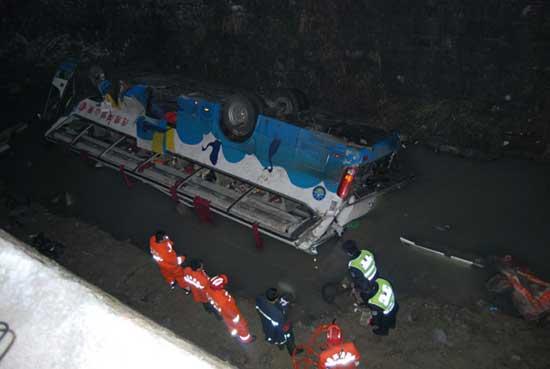 A tourist bus fell into a 10-meter-deep valley from a highway bridge in Southwest China's
Guizhou province at about 6:40 pm on Wednesday. As of 10:30 pm, 16 people were killed and 40
injured. [Photo/Xinhua]
Rescue teams arrived on the scene immediately and the wounded have been sent to a nearby hospital.
A tourist bus fell into a 10-meter-deep valley from a highway bridge in Southwest China's
Guizhou province at about 6:40 pm on Wednesday. As of 10:30 pm, 16 people were killed and 40
injured. [Photo/Xinhua]
A tourist bus fell into a 10-meter-deep valley from a highway bridge in Southwest China's
Guizhou province at about 6:40 pm on Wednesday. As of 10:30 pm, 16 people were killed and 40
injured. [Photo/Xinhua]
A tourist bus fell into a 10-meter-deep valley from a highway bridge in Southwest China's
Guizhou province at about 6:40 pm on Wednesday. As of 10:30 pm, 16 people were killed and 40
injured. [Photo/Xinhua]
Related stories
Editor:Zhang Rui |Source: CNTV.CN