Watch Video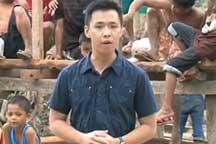 Play Video
As classes open in the Philippines thousands of families in flood-hit areas in the country's south are still in schools that have been used as emergency shelters. Housing remains the biggest challenge for the government but as Barnaby Lo reports, a project is now under way to use the logs that were swept away by the flash floods to build new homes.
It's the end of the holidays in the Philippines, even as thousands of survivors of Tropical Storm Washi in Southern Philippines remain in schools that have been turned into evacuation centers.
It's not the ideal learning environment, but school officials admit they're also left with no choice, seeing as most of these families really have nowhere and no one else to turn to.
And as days turn into weeks and weeks threaten to grow to months, many survivors are growing impatient over the government's response.
Mercuria Abing, evacuee, said, "All we've gotten from our local government is 100 pesos. How's that going to help? Especially families with 7 or 8 kids? We've gotten nothing."
But local officials assure that more help is on its way.
Laurence Cruz, Mayor of Iligan City, said, "The P100 was a Christmas gift. It's not intended to be used to rebuild their homes. It's the priority so that finally we'll be able to get the last evacuee out of the evacuation center. They have a home to go home to and they can start rebuilding their lives."
CCTV's Barnaby Lo said, "This is Bayug Island. Locals of Iligan City are calling it Ground Zero. As you can see, the entire village has almost been wiped out, as tons of logs came crashing down with the flash floods. It's been declared as one of the hazardous zones, which means residents have been banned from returning. But people here say they have no choice, that they have nowhere else to go. It's going to take at least a few more weeks, even months, before the government is able to provide them with new homes."
But with so many logs scattered along the city's shoreline, some residents have been able to rebuild their homes using the same logs that knocked them down. A local non-profit organization has also been collecting the logs to send them for lumbering, and later, to build more than a thousand homes for victims of the flash floods, particularly those whose houses were destroyed by the logs.
Regina Antequisa, executive director, Ecoweb Inc., said, "We have used these logs that damaged the houses, killed the people to remind us that yeah, we have these houses now built from this material, from these logs turned into lumber, but to remind us also that it was, it happened, the killing, the damage because of what we have done also to our environment."
As classes resume and certain areas are declared off-limits, those who have been rendered homeless by Tropical Storm Washi are quickly running out of options. But using readily available logs to build their homes may give them a chance to turn their lives back around sooner, even if they're a bitter reminder of a painful and tragic past.
Editor:Liu Fang |Source: CNTV.CN