Watch Video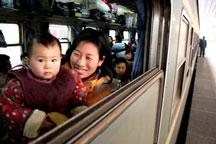 Play Video
China's Spring Festival Travel rush, known as the world's largest annual migration, is due to kick off in just three days. About 3.1 billion journeys are expected to be made during this year's 40-day-period, with an estimated 235 million travels expected by the railway systems. To cope with the coming rush, China's railway system in various levels has ironed out their plans ahead of time.
With only about 20 days between the New Year and Spring Festival, this year's spring rush will face multiple passenger flows of students, migrant workers and family visitors.
To ensure a smooth journey for every passenger, railway departments have adopted various measures, including servicing more temporary trains, more tickets booths, longer working hours and an online ticket purchasing system.
In east China's Anhui province, the availability of tickets booked online or by telephone has been extended to 12 days. Tickets are available for purchasing 10 days in advance at travel agencies. Meanwhile, ticket booths at the station can decide the booking date at their own discretion.
Li Chuanbao from Hefei Railway Station, said, "We have separated reservation booths and collection booths. We have opened 12 ticket booths in total, including 4 booths specially for collecting already paid tickets."
In Zhengzhou, capital of Henan province, the local railway station has worked out three different plans, aimed at normal situations, emergencies and for precautions.
Wang Yuan from Zhengzhou Railway Station, said, "To cope with the travel peak, our station has put in service an extra 81 temporary trains."
Since it's the first time China has adopted a real-name ticket purchasing system, railway stations have made sure to mobilize enough crews and deploy enough booths.
Ma Xizhong from Zhengzhou Railway Station, said, "We will deploy 2 mobile ticket booths in the eastern square, in case of urgent need. We have also set up a 20-person team as backup members to ensure the smooth selling of tickets."
In Guangdong province, local authorities will open over 300 temporary trains during the travel season.
As a precaution for bad weather, railway departments have also prepared hundreds of trains with combustion engines. A 24-hour hotline has also been set up for inquiries.
Editor:Zhang Dan |Source: CNTV.CN