Watch Video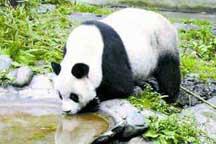 Play Video
Twelve cute baby Pandas spending the Winter at Cheng Research Base of Giant Panda Breeding are attracting a lot of visitors. Meanwhile, two more of the cute litte creatures from Wolong Nature Reserve in Sichuan province are enjoying winter in Yantai, Shandong Province.
The Sichuan pandas, named Qingfeng and Hua'ao, were moved to Yantai's Nanshan Park in April last year. This is their first winter there and they seem to be enjoying the change in scene, especially when it snows.
According to the caretaker, The baby pandas are fed 30 to 40 kilograms of bamboo a day, and also need some supplementary food, including steamed corn bread, carrots and apples.
Hua'ao has gained over 10 kilograms since autumn, while Qingfeng has gained 9 kilograms.
Editor:Liu Fang |Source: CNTV.CN