Watch Video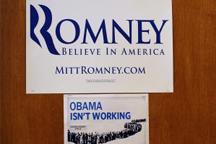 Play Video
In the US state of New Hampshire, Republicans have begun to vote for the man they want to battle against Barack Obama in the race for the White House. Front runner Mitt Romney, the former Governor of Massachusetts, is favored to win, but he is facing fierce attacks from his opponents.
In the fierce Republican nomination fight, the most bruising punches are of course being aimed at members of the same party and no territory is safe.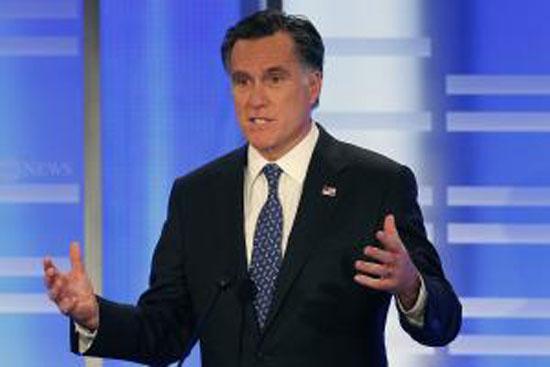 Former Massachusetts Gov. Mitt Romney answers a question during a Republican presidential
candidate debate at Saint Anselm College in Manchester, N.H. Saturday, Jan. 7, 2012.
Romney said: "To me politics is not a career. For me my career was being in business and starting a business and making it successful. My life's passion has been my family, my faith and my country."
Front-runner Mitt Romney's attempt to distance himself from the deeply unpopular Washington political elites backfired.
Republican Candidate Newt Gingrich said: "Can we drop a little bit of the pious baloney? You've been running consistently for years and years and years. So this idea that suddenly citizenship showed up in your mind. Just level with the American people! You've been running at least since the 1990s!"
Mitt Romney's relatively liberal reputation is an advantage in the state New Hampshire.
New Hampshire resident Bryan Marble said: "The conservative, Christian movement isn't quite as strong up here. I hope that someone like Santorum really doesn't have as much of a base up around here as he would in Iowa."
So Rick Santorum who came from nowhere to virtually tie Romney in Iowa won't find a happy home for his brand of ultra-conservatism in New Hampshire. He's concentrating instead on the next state to vote, South Carolina on January 21st.
Republican candidate Rick Santorum said: "I said just wait till January 21st and you'll find out where we're going to get our win, right here in."
The big question for Santorum is whether he can exploit his Iowa momentum to build his campaign organization nationwide.
Former ambassador to China Jon Huntsman ignored Iowa and has spent his time in New Hampshire where he's emphasizing his ability to bridge the political divide.
Republican candidate Jon Huntsman said: "I was criticized last night by Governor Romney, for serving my country in China, yes under a Democrat."
But South Carolina on January 21st will be a much bigger test for Romney, where Rick Santorum, Rick Perry, Newt Gingrich and Ron Paul will be all be competing for the broad conservative vote.
Reporter: "But if Mitt Romney is still ahead by then and performs well in the giant state of Florida against his conservative opponents at the end of the month, then he can start to try to turn his front-running status into a perception of inevitability."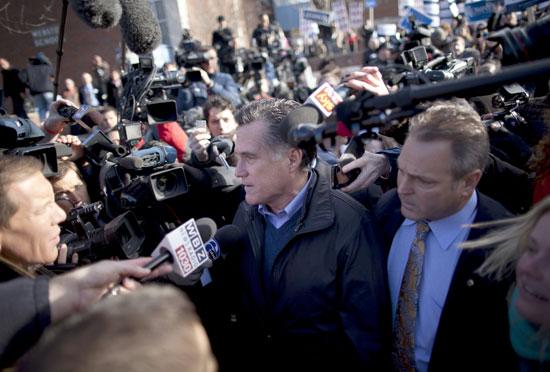 Republican presidential candidate, former Massachusetts Gov. Mitt Romney is surrounded by
media outside Webster School in Manchester, N.H. Saturday, Jan. 10, 2012.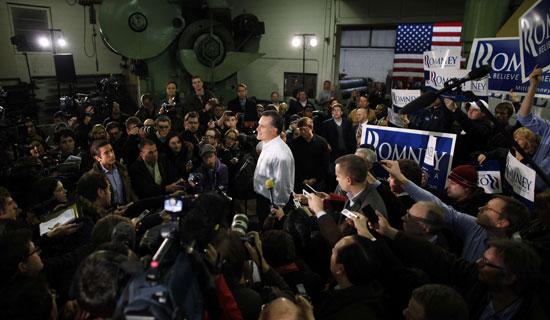 Republican presidential candidate, former Massachusetts Gov. Mitt Romney speaks to
reporters after the campaigned at Gilchrist Metal Fabricating in Hudson, N.H. Monday, Jan.
9, 2012.
Related stories
Editor:Zhang Rui |Source: CNTV.CN