Watch Video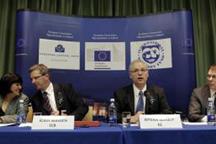 Play Video
As Greece seeks to obtain its second bailout package, international inspectors from the European Union, the European Central Bank and the International Monetary Fund have arrived in Athens for discussions.
Meanwhile, Greek Prime Minister Lucas Papademos is hoping the nation can complete a bond swap with private creditors to help secure the loan and keep the country in the euro zone.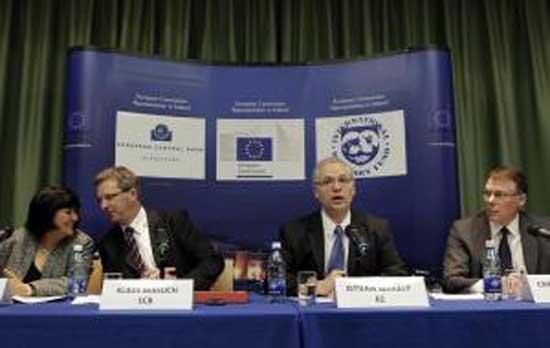 (L-R) Head of European Commission representation Barbara Nolan, Klaus Masuch of the
European Central Bank, Istvan Szekely from the European Commission and Craig Beaumont
from the International Monetary Fund attend a news conference at Government Buildings
in Dublin January 19, 2012.
The pressure's mounting on Greece to avoid bankruptcy.
Representatives from the so-called "Troika" of international lenders - the EU, the ECB and the IMF - arrived in Athens to assess the country's books.
Greece is also continuing talks with private creditors to agree on a bond swap and a write-off half the country's debt.
Even though the talks broke down last week, Greek Prime Minister Lucas Papademos is confident this round will bear fruit.
Lucas Papademos said: "We had discussions on a wide range of issues that concern recent developments, particularly negotiations with the troika and the procedure for the PSI. The discussions were held under a positive climate. The leaders confirmed their complete support to the government and the completion of its tasks."
The international inspectors will discuss the country's second bailout package.
Greece will only get this loan if it can shore up its finances through the bond swap.
Greece faces the threat of leaving the euro if it isn't granted the second bailout that was drawn up in October.
And Greece's finance minister is calling for the bond swap deal to be finalized before Monday's meeting of euro zone finance ministers.
Editor:Zhang Rui |Source: CNTV.CN