Watch Video
Play Video
The Italian Coast Guard said rescue operations for the 21 people still missing from the Italian cruise ship Costa Concordia could resume Saturday morning, as long as the stricken vessel remained stable overnight.
Coast Guard spokesman Commander Cosimo Nicastro said data collected throughout the day suggested the vessel was stable enough for searchers to continue their work on the part of the ship above water. He said data will be checked again in the morning to see if scuba divers can also resume operations.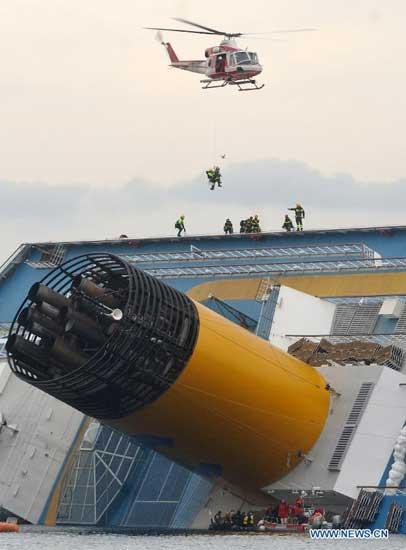 A helicopter transports firemen onto the partially submerged Italian
cruise liner Costa Concordia off the west coast of Italy at the
Tuscan island of Giglio, Jan. 19, 2012. Rescue operations have
resumed after search was suspended Wednesday when the ship shifted
its position. According to Italian authorities, 11 people were
confirmed dead after the cruise liner crashed into rocks at the
beginning of a Mediterranean cruise with over 4,200 passengers
onboard. (Xinhua/Wang Qingqin)
The cruise ship, which grounded off Tuscany, shifted again on its rocky perch on Friday, forcing the suspension of diving search efforts and raising concerns about the stability of the ship's resting place.
However, crews began combing the area above the waterline Friday evening after officials determined the ship had stabilized enough. The diving operation focuses on an area where passengers would have sought lifeboats.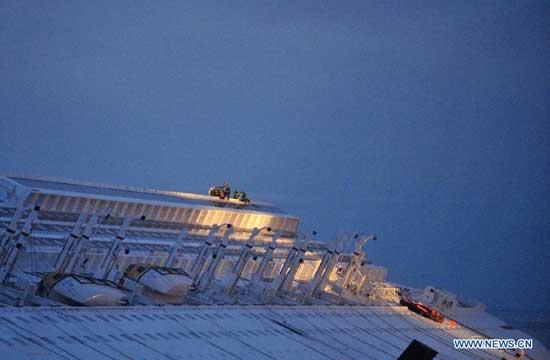 Firemen work on the partially submerged Italian cruise liner Costa Concordia off the
west coast of Italy at the Tuscan island of Giglio, Jan. 19, 2012. Rescue operations
have resumed after search was suspended Wednesday when the ship shifted its position.
According to Italian authorities, 11 people were confirmed dead after the cruise
liner crashed into rocks at the beginning of a Mediterranean cruise with over 4,200
passengers onboard. (Xinhua/Wang Qingqin)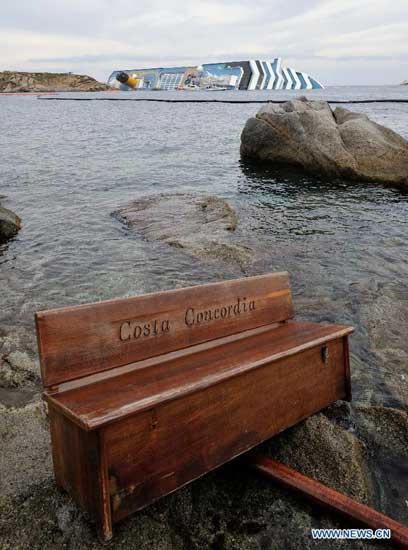 A bench belonging to the partially submerged Italian cruise liner
Costa Concordia is seen at the Tuscan island of Giglio, Jan. 19,
2012. Rescue operations have resumed after search was suspended
Wednesday when the ship shifted its position. According to Italian
authorities, 11 people were confirmed dead after the cruise liner
crashed into rocks at the beginning of a Mediterranean cruise with
over 4,200 passengers onboard. (Xinhua/Wang Qingqin)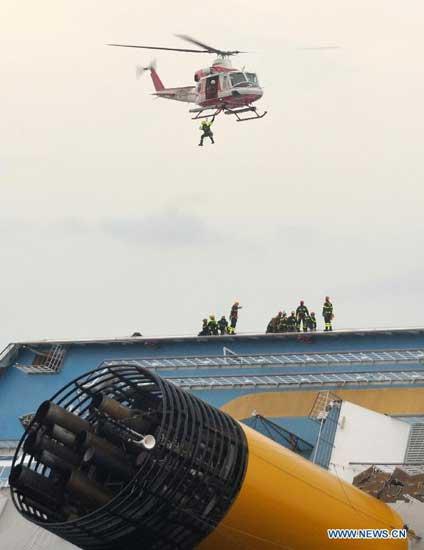 A helicopter transports firemen onto the partially submerged Italian
cruise liner Costa Concordia off the west coast of Italy at the Tuscan
island of Giglio, Jan. 19, 2012. Rescue operations have resumed after
search was suspended Wednesday when the ship shifted its position.
According to Italian authorities, 11 people were confirmed dead after
the cruise liner crashed into rocks at the beginning of a Mediterranean
cruise with over 4,200 passengers onboard. (Xinhua/Wang Qingqin)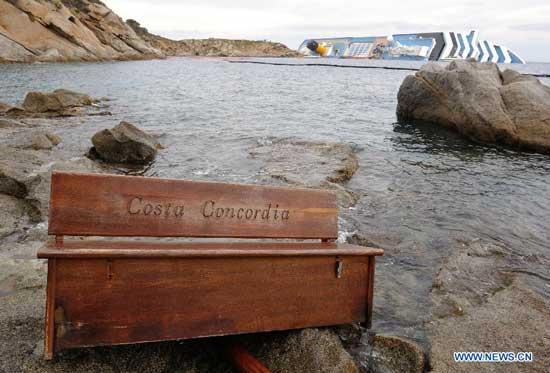 A bench belonging to the partially submerged Italian cruise liner Costa Concordia is
seen at the Tuscan island of Giglio, Jan. 19, 2012. Rescue operations have resumed
after search was suspended Wednesday when the ship shifted its position. According to
Italian authorities, 11 people were confirmed dead after the cruise liner crashed
into rocks at the beginning of a Mediterranean cruise with over 4,200 passengers
onboard. (Xinhua/Wang Qingqin)
Related stories