Watch Video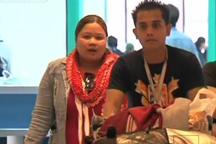 Play Video
The war in Libya was a nerve-wracking experience for the entire nation's citizens. But for Bailyn Pasandalan, a Filipino housekeeper for relatives of Muammar Gaddafi, the period was particularly excruciating as her employers were constantly being targeted by anti-Gaddafi forces.
Finally back home.
For more than a month, Bailyn Pasandalan sought refuge at the Philippines Embassy in Tripoli after her employers, relatives of the late Libyan dictator Muammar Gaddafi fled the country.
It was a dangerous time to be in Libya but even more for Bailyn, who feared for her life as her employers were constantly targeted by anti-Gaddafi forces.
Bailyn Pasandalan, ex-housekeeper for Gaddafi family said: "I remember there was one night, it was 2 in the morning, and we were being bombed. We didn't even have time to wear slippers, and we had to run to the desert. We stayed there until 12 noon, and then we had to run back there again at 3 in the afternoon."
Bailyn considers herself to be lucky to have survived the attacks and having been treated, she says, with humanity and dignity by her employers.
Bailyn Pasandalan said: "That night, when we were escaping, I saw how much my employers cared for me. They didn't leave me alone. I realized they were like family."
Although she was confined within the walls of her employers' mansion, she never complained. To her, it was like living in her dream house… a dream that ended when Gaddafi was ousted.
Bailyn Pasandalan said: "Since Gaddafi was ousted, electricity's always out and there's no water. People have no respect for rules, there's no discipline at all. Just to see the way they drive now is scary. "
Her story reflects the reality Libya is now facing; a country that has embraced a new-found freedom, but also one that is still struggling to come to terms with the responsibilities that come with democracy.
Reporter: "Despite the instability in the region, the Middle East remains one of the prime destinations of overseas Filipino workers. The fall and death of Muammar Gaddafi have emboldened hundreds of Filipinos to return to Libya, but the Philippines government continues to urge them to remain vigilant, as it repatriates more Filipinos in other conflict areas in the Middle East. "
Josefino Torres, department administrator of Overseas Workers Welfare Administration said: "In the case of Syria, we have mobilized other embassies to send their staff to Syria to help. Aside from that, we have sent a team to go around Syria to convince our Filipinos to go home. "
Just last week, 75 Filipinos arrived from Syria. And with the tensions showing no signs of easing, more are expected to return to the Philippines in the next few weeks. The question, however, is how long before they decide it's worth going back and taking the risk for the survival of their families.
Editor:Zhang Rui |Source: CNTV.CN