Watch Video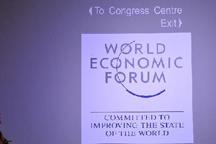 Play Video
The theme of this year's economic forum is "The Great Transformation: Shaping New Models". Discussions are expected to focus on new patterns of economic growth. The eurozone crisis and its global impact are also set to top the agenda.
A blizzard of bad news greeted delegates arriving for this year's World Economic Forum in the Swiss alpine resort of Davos.
A lady stands next to a World Economic Forum (WEF) logo inside Registration and Media
Village a day before the opening of the 42nd Annual Meeting of WEF in Davos,
Switzerland, on Jan. 24, 2012. The 5-day Meeting this year will convene under the
theme of "The Great Transformation: Shaping New Models." (Xinhua/Ye Pingfan)
A record 2,600 leaders from business, finance and industry and around 40 heads of state are taking part in the annual event.
The Forum is a talking shop, but there's pressure on delegates to come up with actions as well.
Shiv Khemka is Sun Group vice chairman. He said: "One is very concerned about the global economy, you know, the euro zone weakness. The U.S. is showing some signs of recovery. We hope the euro zone doesn't drag it down."
Many in Davos say Europe is being left behind.
Gerard Lyons is Chief Economist at Standard Chartered. He said: "We think global growth is going to be 2.2 percent which is probably a full two percent below where the IMF sees it and the message probably here at Davos this week is that it is a very divided world."
Chief Executive's attending the Forum are keen to talk about a new way forward.
Paul Polman is CEO of consumer goods giant Unilever. He said: "What we are looking for is much more action being here together with the CEO's and I am very encouraged to see not only talk but concrete activity happening and I think the world will judge the results more than the talk at this time."
The Forum will continue until the weekend.
No conclusions are ever reached but organizers say the ideas formulated here are the key to its success.
Editor:Zhang Rui |Source: CNTV.CN