Watch Video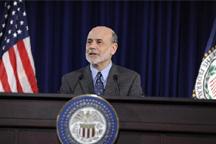 Play Video
Federal Reserve Chairman Ben Bernanke signaled on Wednesday that the US central bank may consider further monetary easing after the central bank announced interest rates would remain near zero until late 2014.
Speaking at a news conference, Bernanke was cautious about the recent improvement in the US economy.
U.S. Federal Reserve Chairman Ben Bernanke attends a press conference after a Federal
Open Market Committee (FOMC) meeting in Washington D.C., capital of the United
States, Jan. 25, 2012. (Xinhua/Zhang Jun)
Ben Bernanke said: "I don't think we are ready to declare that we've entered a new stronger phase at this point, we'll continue to look at the data. We will, as I've said in my statement and as we have in the FOMC statement, we continue to review our holdings, our portfolio, holdings, securities and we are prepared to take further steps in that direction if we see the recovery is faltering or if inflation is not moving toward target so that's an option that's certainly on the table."
Editor:Zhang Rui |Source: CNTV.CN