Watch Video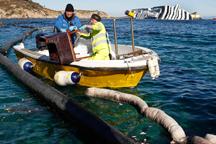 Play Video
Investigators in Italy are conducting more interviews with officials from Costa Cruises, the parent company of the Concordia which sank 12 days ago. There have been fresh allegations that Costa failed to do enough to prevent the disaster on the luxury cruise liner and manage the evacuation of passengers.
Meanwhile a crew of Dutch oil workers is getting ready to drain 2,300 tons of fuel from the vessel. Vanessa Mock has been following the salvage efforts on Giglio and has this report.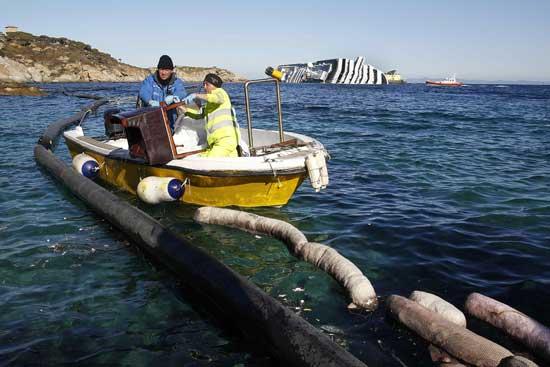 Oil recovery workers check oil protection barriers next to the Costa Concordia cruise
ship which ran aground off the west coast of Italy at Giglio island January 25, 2012.
Only around three dozen men are in charge of this massive salvage operation to prevent the Concordia's vast fuel reserves from leaking out. These underwater engineers will work 24 hours a day to pump away the fuel from the tanks located deep in the ship's hull.
Mayor of Giglio Sergio Ortelli said: "It's a very important operation to make the ship safe and this needs to happen before we can try to remove the shipwreck."
The salvage work on the Concordia will be even more challenging than shown on this recent film by Smit, the Dutch salvage company in charge of the operation. The waters in and around the ship are dense with waste and decaying materials.
Rescue operation coordinator Franco Gabrielli said: "It's an extremely complex and technically challenging operation. And it risks being suspended if seas are rough or waves rise to one and a half metres."
Rescue workers are still trying to recover bodies from passengers who drowned when the Concordia capsized on the 13 of January. Prosecutors are now questioning more officials from Costa Cruises over whether the company was too slow to respond to the accident and evacuating more than 4,200 passengers. Many on Giglio have expressed anger towards Costa's crisis management. And they are still trying to make sense of what happened.
Ortelli said: "I think people are still reeling from the tragic events. They are still caught up in the emergency, the rescue work, the fears of an oil leak. They haven't had time to reflect on what happened."
The cost of the Concordia disaster is around five million euros. But if oil does leak out in the coming weeks, it could rise considerably. Its up to this crew to make sure that doesn't happen
Reporter: "The final preparations for this massive oil salvage operation are now being made. The dutch crew are optimistic they can get the job done within six weeks. But they also admit they don't know how they will get to the tanks on the underside of the Concordia. That could in the end take a lot longer than planned."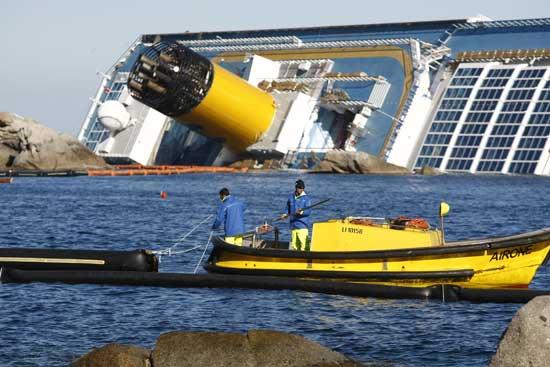 Technicians pull anti oil spill booms floating around the grounded cruise ship Costa
Concordia off the Tuscan island of Giglio, Italy, Wednesday, Jan. 25, 2012.
Editor:Zhang Rui |Source: CNTV.CN