Watch Video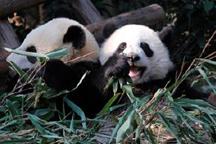 Play Video
While the Chinese people are still enjoying the spring festival holiday, the country's pandas are also joining in the revelry. At a breeding ground in Chengdu, of the southwestern Sichuan province, over ten baby pandas are putting on a special show for the visitors.
Even for pandas, spring festival is a time for fun, and maybe even a chance for a little exercise...
But for baby pandas, even climbing a tiny tree is no easy task.
Some are not happy because their play time is interrupted.
Even playing with a fitness ball is a challenging task.
Maybe some jogging.
In this panda breeding base in Chengdu, 12 baby pandas are part of a special panda kindergarten.
And they can be very clingy.
And they often get themselves into trouble...Just like this little panda whose head has gotten stuck in some bamboo.
Workers at the base say the carnival will last till lantern day, which falls on January 15th of the Chinese lunar calendar.
Editor:Zhang Rui |Source: CNTV.CN