Watch Video
Play Video
US President Barack Obama has delivered an election-year State of the Union policy address to a joint session of Congress and millions of television viewers. In his speech, "China" was mentioned several times, mainly regarding its influence on the US economy and employment.
Obama said that his government's move to bring trade cases against China is taking effect, enabling more Americans to work. He also emphasized that more needs to be done towards this aim - announcing the creation of a Trade Enforcement Unit to investigate unfair trade practices in other countries, mentioning China again.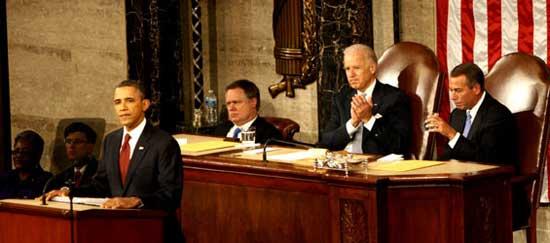 U.S. President Barack Obama (front) waves prior to his State of the Union address on
Capitol Hill, Washington D.C., the United States, Jan. 24, 2012. (Xinhua/Fang Zhe)
Obama also urged his people to seize the opportunity to bring manufacturing jobs back. He called for a rollback of tax breaks for American companies that outsource jobs overseas. He also proposed new tax cuts for manufacturers that build their products stateside.
Editor:Zhang Rui |Source: CNTV.CN