Watch Video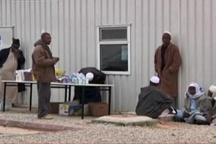 Play Video
Thousands of minority Tawergha Libyans that were driven from their homes during last year's civil war have resurfaced across the country. They are asking to return to their city that was completely destroyed during the civil war.
Once residents of Gaddafi's stronghold, Tawergha, these families now live in a poor and unsanitary compound. A handful of volunteers from charity organizations are here, struggling to provide them with food and other daily necessities.
Ismael al-Ayesh, representative for Tawergha Refugee Camps said: "Now, Tawergha people are completely displaced. About 38-thousand people were displaced, and are scattered in different areas of Libya. Some of them can get proper housing, others can't."
The camp is home to some 2-thousand people. They suffer from poor sanitary conditions and lack of electricity. Today, people here are torn between the desire to return home, and the fear of reprisals from heavily armed locals still bitter from one of the bloodiest episodes in Libya's civil war.
Ismael al-Ayesh said: "Actually, the people suffered a lot everywhere in the eastern and western regions, and in the southern region too. The people are suffering, and they want to return to their area, they want to live under the shadow of their home or their palm tree or under anything."
Al-Ayesh added that the Tawergha are ready to bring to justice those amongst them who were involved in crimes against other Libyans. But he hopes the entire Tawergha minority will not be held responsible for the actions of a few.
While the NTC favors the return of Tawergha, it admits this will take time. Much of the town lies in ruins, and they also fear tensions are still too high to allow a return that could spark yet more violence.
Editor:Zhang Rui |Source: CNTV.CN