Watch Video
Play Video
Thousands of workers affiliated with the Communist Party Union took to the streets of Athens on Thursday to protest a new package of austerity measures to which Greek political leaders have agreed in exchange for a new 130 billion Euro rescue loan.
Vassilis Parskevopoulos, member of Greek Communist Party Union said: "The developments are crystal clear. Workers are sinking into an abyss. That's clear to everybody. I think the government, the troika and the capitalists have made their decisions so it's up to the workers now to make their own decisions."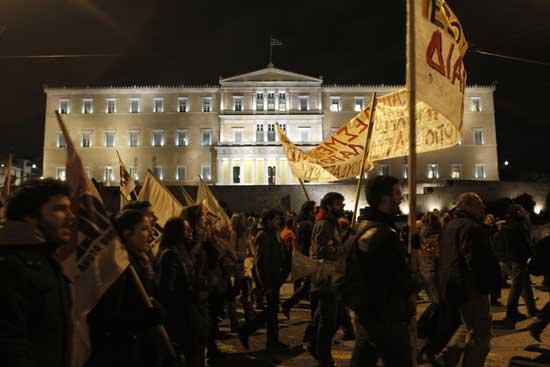 PAME Communist-affiliated union supporters protest outside the Greek Parliament against the new
austerity measures in central Athens, on Thursday, Feb. 9, 2012.
Spiros Alvanos, member of Greek Communist Party Union said: "This greatly affects every worker. They are going to lead us into poverty. But even so there is no way these measures will find a solution to the problem. They will only be a solution to increase the income of the wealthy."
Greece's two major labor unions responded to the measures by calling a 48-hour strike. The country's main unions, the General Confederation of Labour and the Confederation of Civil Servants represent 2.5 million workers, or half the total workforce. They said they will hold a two-day walk out on Friday and Saturday.
According to the government's deal, some 15,000 civil servants are to be cut in 2012. Some 10,000 were already cut in 2011, and by 2015 the government plans to slash 150,000 workers in the public service.
The unions said several demonstrations would be staged in Athens culminating in a gathering outside parliament on Sunday when the government hopes to pass the austerity agreement.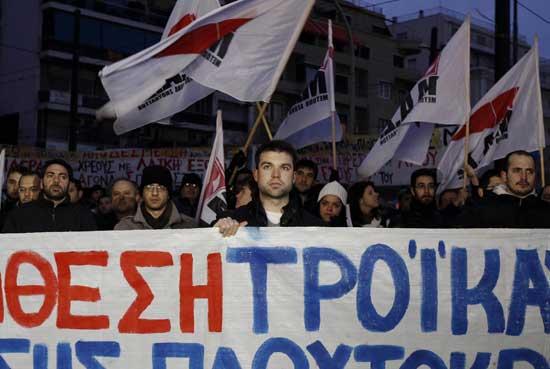 Demonstrators from the Communist-affiliated trade union PAME take part in a protest against the
new austerity measures in Athens February 9, 2012.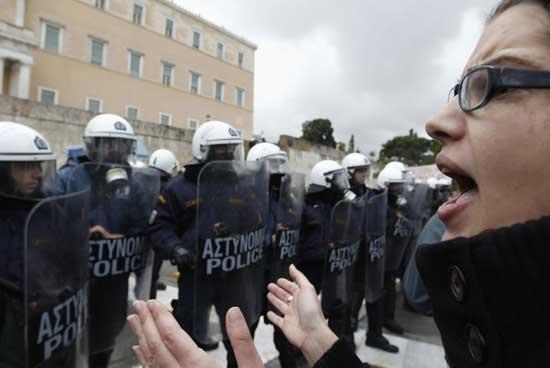 Anti-austerity protester shouts anti-government slogans in front of the heavily guarded
parliament in Athens February 7, 2012.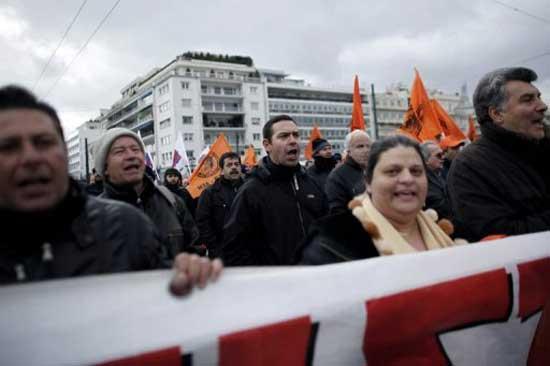 Greek Public Power Corporation unionists protest outside the parliament in Athens on February
9, 2012.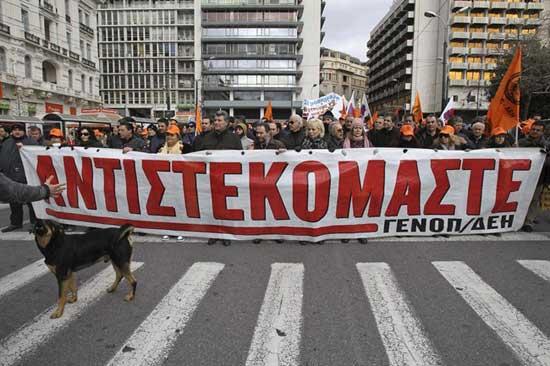 A stray dog stands in front of a banner reads ''We resist'' carried by electricity company
employees Public Power Corporation, PPC, during a protest against Greek government's plans to
privatize part of the power distribution service, in Athens, on Thursday, Feb. 9, 2012.
Editor:Zhang Rui |Source: CNTV.CN