Watch Video
63 people are said to be killed in Homs province, Syria on Thursday. Arab foreign ministers will discuss on Sunday a suggestion to form a mutual delegation of observers to Syria, in coordination with the UN, while other countries are also trying to take action.
The region is considered one of Syria's most volatile areas.
Clashes have intensified between troops loyal to the Syrian President Bashar al-Assad and armed militia allegedly comprising army defectors.
The Syrian government says more than 2,000 army and security personnel have been killed during the 11 month-long unrest, while the UN puts the death toll at more than 5,400.
The issue of Syria has now seen the active involvement of many powers, both regional and global.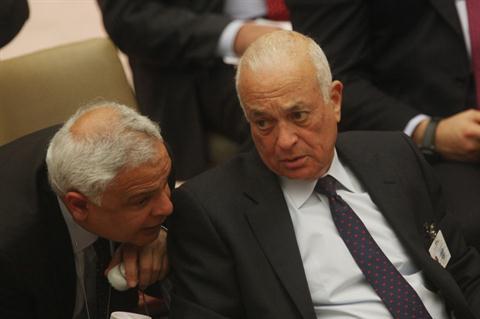 Nabil Elaraby, Secretary General of the League of Arab States, looks on at a
United Nations Security Council meeting on the crisis in Syria on Jan. 31, 2012
in New York City.
Arab foreign ministers will discuss a proposal to send a joint UN-Arab mission to Syria.
The US meanwhile is trying to work with its allies and partners to explore ways to further isolate President Assad.
This is set to include economic sanctions to close loopholes in funding the president.
The EU has been a help. A senior EU official has announced a block will soon impose harsher sanctions against Syria.
The measures may include bans on the import of Syrian phosphates, on commercial flights between Syria and Europe, and on financial transactions with the country's central bank.
Meanwhile, Russia has voiced fears the conflict in Syria could escalate into civil war.
It stressed the crisis is the country's internal affair, and should be resolved through dialogue.
Iran has said it will unconditionally support Syria and reforms implemented by Damascus.
The Syria crisis raises an increasingly important question on whether the return of a a fight for supremacy between powers is looming ahead. Whatever the answer, it's the country's people who are suffering the most.
Related stories
Editor:Shi Jierui |Source: CNTV