Watch Video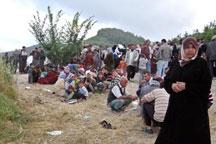 Play Video
As violent clashes intensify in Syria, many have decided to seek refuge in neighboring countries. Once there, they may be away from the violence, but they are not free from hardship.
Many Syrians who have fled abroad own next to nothing.
In Mafraq, a Jordanian city close to the Syrian border, a relief organization, the Jordanian Society, supplies daily necessities to Syrian refugees. But the supplies are far from enough.
The United Nations refugee agency has registered 3063 Syrians in Jordan and says the number is rising. But this number does not reflect all the Syrians who have crossed the border. Jordanian media have published estimates ranging from 5,000 to 15,000, but the figures cannot be verified.
Editor:Shi Jierui |Source: CNTV