Watch Video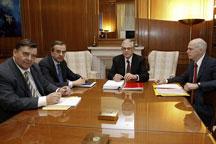 Play Video
Eurozone finance ministers have withheld approval for a second bailout for Greece, demanding the debt-ridden country pass its latest austerity package into law and identify 325 million euros in spending cuts.
The demands were set during talks between Greek Finance Minister Evangelos Venizelos and his 16 eurozone counterparts in Brussels.
Eurozone president Jean-Claude Juncker said Greek political leaders must also back the pact and provide assurances which will be carried through after forthcoming elections.
Juncker said, "Today we have noted the situation in and around Greece. We have been informed in data by the members of the troika on the agreements we have reached so far in Athens. We've talked about the policy package."
Broken down: Talks involving the three leaders of Greece's coalition government stalled
after they failed to agree 300million euro in pension cuts, but they have now agreed a
deal.
Thursday's political deal in Athens followed protracted overnight negotiations between Greece's main political parties and the small nationalist Laos party, over what measures they were prepared to sign up to win the bailout deal.
The three parties' bosses had earlier agreed to most of the creditors' demands, including private sector wage cuts and public sector job cuts. But during night-long negotiations they were divided over a plan for deep cuts in pension benefits, leaving a roughly 300 million euros' shortfall in this year's budget targets.
By the draft agreement with the troika of official lenders, Greece will, among other measures, slash minimum wages in the private sector by 22%, abolish permanent jobs in state enterprises and cut 150,000 jobs in the public sector by 2015.
European Economy Commissioner Olli Rehn with Greek Finance Minister Evangelos Venizelos in
Brussels on Thursday.
Editor:Shi Jierui |Source: CNTV