Watch Video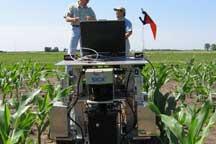 Play Video
The Midwestern state of Iowa is a major source of the farm products for China. With the country surpassing Canada to become the U.S's largest importer of agri-products, both China and the United States are working to deepen cooperation between each other.
China wants cutting-edge technology to improve its crop production, and the U.S. wants a piece of China's lucrative market. According to U.S. statistics, every one billion U.S. dollars worth of agri-products exported can create 8400 American jobs, and China has multiplied this figure by 7 times. Professor Wang Tao, deputy vice chancellor of China Agricultural University, says it is a win-win situation.
Prof. Wang Tao, deputy vice chancellor of CAU, said, "The U.S. has advanced technology and we have the market, and we will like to learn from them, and they are happy to invest into the market too."
One area in focus is the establishment of a sustainable food program. The university has also been closely watching Chinese food quality and and safety in comparison to American standards.
I'm standing in side one of China's top food research centre, which has many cooperation and communications with the United States. And this particular lab focuses on food quality and safety.
A researcher said, "This lab is used to test the processing methods of fruits and vegetables."
Prof. Wang Tao, deputy vice chancellor of CAU, said, "Food quality and safety, and maintaining sustainable growth are three major topics in the world today."
Professor Wang says China has indeed benefited from bilateral trade in agriculture, leading to stable food supply, and improvement in agricultural technologies.
Related stories
Editor:Zhang Dan |Source: CNTV.CN