Watch Video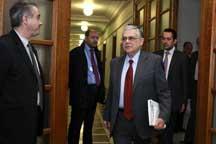 Play Video
The Greek cabinet has approved extra final austerity measures to ensure it receives further international finance next week to avoid bankruptcy next month.
It has also agreed to launch by March the 8th. a debt swap with private creditors. European leaders have voiced optimism on the bailout but say people should still be on guard.
Greek cabinet ministers say they have paved the way for their second bailout loan of 130 billion euros.
The cabinet approved on Saturday a final set of austerity measures sought by the EU and IMF, raising the chances of a deal next week to avert a chaotic default.
It also agreed to launch a debt swap with private creditors .. with the aim of completing it by March the 11th, in line with the rescue package... that Athens hopes to agree on with its eurozone partners on Monday.
Anna Diamantopoulou, Dducation Minister, ssid, "We are very very decided to implement everything what we have decided in previous days. There was an agreement on all important issues, so I believe the minister of economics will be full of good news in the Euro Council, Eurogroup meeting tomorrow."
The latest auterity measures cover additional 325 million euros worth of spending cuts. They include fresh 12 percent cuts to pensions exceeding 1-thousand-300 euros per month... and auxiliary pensions above 200 euros per month... along with new reductions on salaries of civil servants. It is expected to be voted on in parliament on Monday... in time for the crucial Euro group meeting.
Greek officials have insisted they have done everything necessary to meet the conditions set by the EU and the IMF to receive the 130-billion-euro bailout.
Christos Papoutsis, Greek Public Order Minister, said, "I'm under the impression that this is not about money. It calls for a substantial, political decision on behalf of the European leaders, a matter of them respecting the spirit and the essence of the European Treaty. The Greek people have done all they can do. We have exceeded the limits of the system, and beyond this, we are ready to implement our agreements. There is no more room for manoeuvre."
European leaders, including German Chancellor Angela Merkel, and Italian Prime Minister Mario Monti, expressed optimism on Friday that Greece would secure the second rescue package.
However, lingering doubts over whether Greece can bring its mountain of debt down to more manageable levels in coming years could still hold up the rescue package. And Jean-Claude Junker, who will chair Monday's meeting, made clear that urgent work was needed to get its debt-cutting program on track.
Editor:Zhang Pengfei |Source: CNTV.CN