Watch Video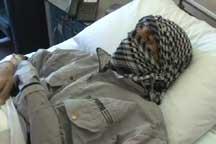 Play Video
Images coming out of syria show fierce fighting and there are reports of thousands killed and wounded.
Some of the wounded have a small window of opportunity for getting treatment which means getting to neighboring countries like Lebanon. Our correspondent Stephanie Freid is in Lebanon where she met Syrians being treated there.
These are the lucky ones. Syria's wounded who made it out alive. They were able to bribe a taxi driver, get smuggled past a checkpoint or curry favor with friends or relatives to get into Lebanon for treatment.
Some may never be able to walk without a limp or pick up their children.
But at least they're alive.
This man from Homs, unable to contain his pain during our interview, recalls the night he was sniped.
Thousands have died during Syria's uprising and countless others have been wounded. Most shy away from media, fearing for safety of families still inside Syria. Lebanese medical staff treating the ones who make it through say they're seeing multiple bullet wounds and they're fighting against infection.
Lacking medical facilities in Syria mean many have gone without treatment - sometimes days - and wounds fester.
This man, shot this month during protests in the turbulent Baba Amr, Homs district, developed a leg infection so severe that by the time he got here, surgeons had to operate three times to undo the damage. The treating physician says he sees one commonality among the wounded who arrive here.
Fewer than a dozen Syrians are being treated in this hospital, two other area hospitals are also treating wounded. The numbers are low because most of Syria's wounded don't make it to this side of the border.
Related stories
Editor:Zhang Pengfei |Source: CNTV.CN