Watch Video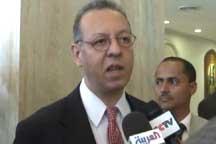 Play Video
UN envoy to Yemen Jamal bin Omar has urged the Yemeni people to vote in the upcoming presidential election. The vote is part of a deal to ease President Ali Abdullah Saleh out of office and pull the country back from the political crisis.
Bin Omar, a key mediator of the UN-backed power transfer deal brokered by the Gulf Cooperation Council arrived in Yemen's capital of Sanaa Saturday to oversee the process of the presidential polls scheduled for February 21st.
Jamal bin Omar, UN envoy to Yemen, said, "I urge all Yemenis to elect the sole candidate, Vice President Abd-Rabbu Mansour Hadi, as the new president of Yemen. The election will move Yemen into a transitional period of two years, during which Hadi will hold a national dialogue with all Yemeni factions, form a national committee to rewrite the constitution and prepare for parliamentary elections."
The presidential polls will be monitored by international observers as Hadi has promised to launch a national dialogue with opposing groups to settle differences after he assumes power. Bin Omar said that he will meet with all Yemeni parties, including Hadi to review the implementation of the deal.
On November 23rd, Saleh his ruling party and the opposition signed the agreement in Saudi Arabia under which Hadi will be elected to replace Saleh in an early presidential election. Saleh, currently in the US for medical treatment will retain the title of honorary president until February 21st and enjoys immunity from prosecution in accordance to the GCC deal.
Editor:Zhang Pengfei |Source: CNTV.CN