Watch Video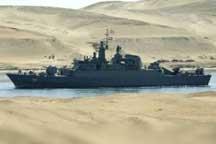 Play Video
Two Iranian warships have sailed through the Suez Canal into the Mediterranean sea. The move is likely to be closely monitored by Israel.
A source at the Suez Canal Authorities says the two Iranian ships a destroyer and a supply ship crossed through the canal with the permission of the Egyptian armed forces.
The two ships now could be on their way to the Syrian coast. A year ago Iran and Syria agreed to cooperate on naval training and Syria is the only country with a naval agreement with Tehran.
As well, both countries are staunch enemies of Israel. And, last year two Iranian warships made a similar journey a move Israel called a "political provocation." The Suez Canal cuts through Egypt and allows shipping to pass from the Middle East to Europe and vice-versa. But until last year Iranian warships were not permitted to use the strategic waterway.
Related stories
Editor:Zhang Pengfei |Source: CNTV.CN