Watch Video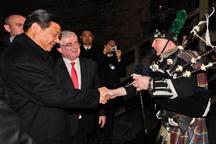 Play Video
Vice President Xi Jinping's Irish visit is being viewed in Ireland as huge boost for trade. And despite the huge difference in size and economic clout between Ireland and China, business leaders say both nations can benefit from close trade links.
Behind the gates of the Dail, Ireland's Parliament building, they're hoping for big things from Xi Jinping's visit.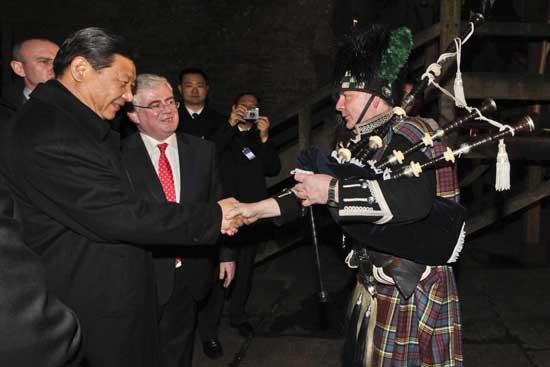 China's Vice President Xi Jinping (L) and Ireland's Deputy Prime Minister Eamon
Gilmore meet bagpiper Neil Carey at Bunratty Castle on the first day of a three-day
visit to Ireland, in Dublin February 18, 2012.
They view themselves here as a bridge into the European Union's half a billion strong market.
Lawyer Kevin Lynch says Ireland can be Europe's Hong Kong.
Yang Cao here has been working in the Irish capital for 11 years.
He says the Chinese Vice President's stopover could have a huge impact on an Irish economy still recovering from the financial crash.
And should more Chinese businesses set up shop in Ireland following Xi Jinping's visit, ex-pat business consultant Lynne Yang says they'll be welcomed..
The people of Ireland see Xi Jinping's visit as a real opportunity, a chance to create jobs here and boost trade for both Ireland and China.
Chinese VP calls for enhanced China-Ireland economic cooperation
SHANNON, Ireland, Feb. 19 (Xinhua) -- Visiting Chinese Vice President Xi Jinping said Saturday that China and Ireland should deepen their mutually beneficial economic cooperation.<Full story>
Full text of Chinese VP's answers to questions from Irish Times
BEIJING, Feb. 19 (Xinhua) -- Chinese Vice President Xi Jinping answered written questions from the Irish Times about China-Ireland relations and other issues, prior to his visit to the European country.<Full story>
Editor:Zhang Rui |Source: CNTV.CN