Watch Video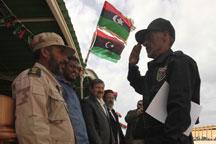 Play Video
The dust may have settled from the celebrations marking the first anniversary of the revolution in Libya that led to the fall of Muammar Gaddafi.
But many Libyans remain on high alert, following a statement last week by Gaddafi's son Saadi that he's planning a revolt against the current government.
He made the statement from Niger, where he's currently in exile. Security has been tightened in several cities across Libya, with checkpoints on almost every street. CCTV's Kofa Mrenje spent some time at one of the checkpoints with a brigade in the capital Tripoli, and filed this story.
These heavy machine guns had been banned from the streets immediately after the fall of Muammar Gaddafi in October last year.
But now they are back in almost every street in all major cities across Libya, as brigades that control various parts of the cities put up checkpoints, to enhance security. A statement made via a television interview last week by Saadi Gaddafi, one of Muammar Gaddafi's sons who is now exiled in Niger seems to have sent shivers down the spines of many Libyans.
Rida El Shwekh, Commander of Tripoli Security Brigade, said, "This enhanced security as you see, is a result of the rumors that are spreading, about plans of another revolution against the current regime".
Rida El Swekh, is the commander of the Tripoli Security brigade, that is responsible of this checkpoint, which is just one of many other checkpoints in the capital Tripoli. Here, everyone is on the lookout. Vehicles thoroughly screened and searched. Drivers and passengers must identify themselves, and their identification papers closely scrutinized. They are not taking any chances.
He said, "Their father took over power through a military coup in 1969. That's why we are a little bit scared and afraid that some people may be used to causing a fracas in Libya, and this might push revolutionaries. That's why we are enhancing security".
Saadi Gaddafi, who spoke on one of the local TV channels from Niger, claims they still have strong supporters in the Libya, including some members of the National Transitional Council and the interim government. And therefore claims a revolt against the current regime is very possible.
Although there has not been official communication from the NTC or the interim government over the threat, most of the brigades have take it upon themselves to beef up security in the towns. Doing security rounds, on the lookout for any suspicious characters...
Reports also indicate that a group of Gaddafi's former close allies who are now living outside Libya, are trying to regroup, ready to take on the NTC and the interim government.
CCTV correspondent Kofa Mrenje said, The brigades in various cities across Libya, are not taking Saadi Gaddafi's sentiments lightly, that they might start a revolt against the National Transitional Council and the interim government, as he claims to have supporters in the NTC and the interim government. But more so, they say they are doing this to enhance security to the people of Libya in general.
Editor:Zhang Jingya |Source: CNTV.CN