Watch Video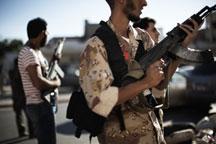 Play Video
The process of rebuilding Libya after months of conflict is well under way including the formation of a new military. More than one thousand young men have just graduated from the Tripoli military training school and will now join the national defence force. It's the country's first national army under the interm government.
It is their last match before they graduate from the Tripoli military training school...These more than one thousand young men, many of whom took took up arms against Ghadafi during the revolution, are the first to graduate from this training school, since the new regime took over power after the fall of Muamar Ghadafi late last year.
Yusuf El Mangush, Chief of Staff, Libya Army, said, "You are the first to graduate after the liberation of Libya. You are a historical team. And now, you have to deliver what the county expects from you."
Technically, Libya does not have a strong national army, as many of those who were serving in the force during Ghadafi's era, were either killed, or are now in captivity, since they were fighting with him during the revolt. Others left the army to join the revolution. Now the interim government has a tough task ahead, as it tries to build a fresh army, that will secure the country and its oil resources.
He said, "We are going to build the Libyan Army. Now we are calling on our heroes, the revolutionaries, to join the force, and be part of a great team."
And soon after. It was time to celebrate others could not hold back their tears. They have not just made history, but time has finally come, for them to serve their country.
Bashir Amar, Army Officer, said, "I want to tell my family, that your son is now a man. Thank God for the Matyrs who Liberated Libya and all those who lost their lives during the revolution. Even my brother."
Many cities in Libya are still under the command of various brigades that fought Ghadafi, as the government tries to persuade them to join the army and the national police.
CCTV correspondent Kofa Mrenje said, "Security has been an issue of great concern for many Libyans. Many have been calling on the Interim government to strengthen the National Army which was disintegrated during the revolution, in order to secure the countries borders. And this first graduation of the national army, could be a relief to many Libyans, that at last, their county will be secure again.
Editor:Zhang Jingya |Source: CNTV.CN