Watch Video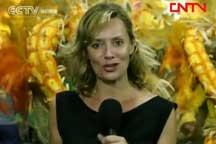 Play Video
Hundreds of thousands of people have gathered in Rio de Janeiro's vibrant Flamengo neighborhood, to enjoy the last official day of the carnival season. CCTV correspondent Helen Clegg in Rio de Janeiro brings us to the party to take a look.
They call it the greatest show. On the main days of the parade 13 major samba schools walk down the famous half mile long 'avenida'. Thousands of people take part both from the samba school and outside who pay to participate, which in turn generates revenue for the school. Yves is from France and parades every year.
A tourist said, "Its a really nice atmosphere, when you enter the sambadrome and you have 75,000, 80,000 people screaming and singing, its a thrill."
CCTV's Helen Clegg said, "What many people don't realise is that carnival is not just a fabulous show, its a fierce competition where the 13 schools are judged on categories including, the floats, the song and the amazing costumes."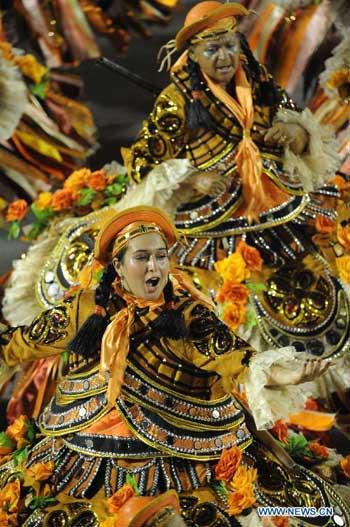 Performers of Salgueiro samba school participate in the samba
parade in Sambadrome of Rio de Janeiro, Brazil, Feb. 20, 2012.
The samba school parade of the special group lasted from Sunday
to Monday. (Xinhua/Weng Xinyang)
However in the shadow of the brand new construction its a different story.
A Rio resident said, "I'd like it to be for everyone but its not there's a division, only those who have money can go, those who can't stay here."
Aristotless has watched the new construction take place around him and wonders if the money could be used in different ways.
A Rio resident said, "They have created space for 12,000 people for who Look where are the hostpitals, the doctors".
Nearby the parade continues into the early hours many people unaware of this reality. For one tourist from Wales carnival has been an unforgettable experience.
A tourist said, "its amazing, its not just the parade, its the parties, the people, its amazing."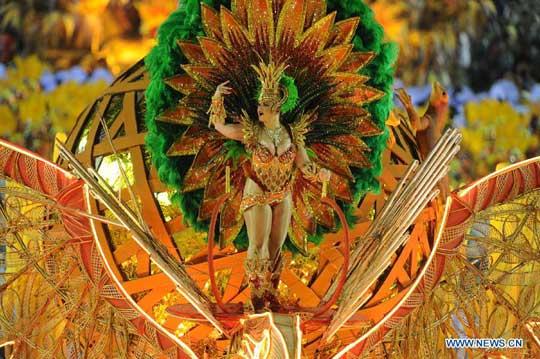 A performer of Salgueiro samba school participates in the samba parade in Sambadrome of
Rio de Janeiro, Brazil, Feb. 20, 2012. The samba school parade of the special group lasted from Sunday to Monday. (Xinhua/Weng Xinyang)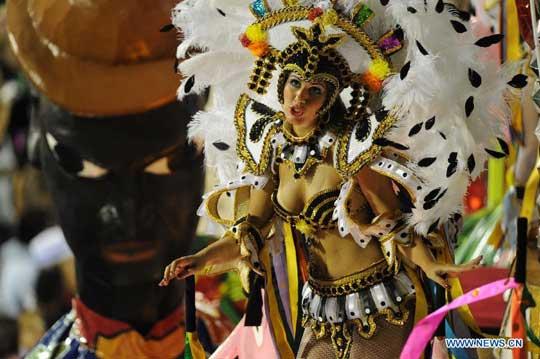 A performer of Salgueiro samba school participates in the samba parade in Sambadrome of
Rio de Janeiro, Brazil, Feb. 20, 2012. The samba school parade of the special group lasted from Sunday to Monday. (Xinhua/Weng Xinyang)
Related stories