Watch Video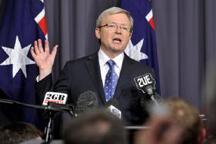 Play Video
Australia's foreign minister has announced his resignation amid an ongoing leadership squabble. This announcement was made during an early morning news conference in Washington, DC, where he is on official business.
Former Australian Foreign Minister Kevin Rudd said: "In recent days, Minister (Simon) Crean and a number of other faceless men have publicly attacked my integrity and therefore my fitness to serve as minister of government. When challenged today on these attacks, Prime Minister Gillard chose not to repudiate them. I can only reluctantly conclude that she therefore shares these views. The simple truth is I cannot continue to serve as foreign minister if I do not have Prime Minister Gillard's support. I therefore believe the only honourable thing, and the only honourable course of action, is for me to resign, and I do so with a genuinely heavy heart and after much personal reflection."
Born in 1957, Kevin Rudd is an Australian politician who served as a diplomat in both Sweden and China. Rudd studied at the Australian National University in Canberra, majoring in Chinese language and history. He was elected to Parliament in 1998.
In December 2006, he became leader of the Labor party. One year later, Rudd was sworn in as Prime Minister by the Governor-General, Major General Michael Jeffery. Rudd served as Prime Minister of Australia from 2007 to 2010 and as Minister for Foreign Affairs from 2010 to early 2012.
Related stories
Editor:Zhang Rui |Source: CNTV.CN