Watch Video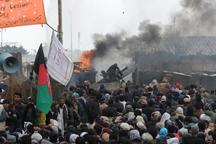 Play Video
Massive anti-American demonstrations are continuing in Afghanistan against the burning of Qurans and other Islamic religious materials during trash disposal at an American air base.
Thousands have taken to the street outside the Camp Phoenix base on the main highway linking Kabul with the eastern city of Jalalabad.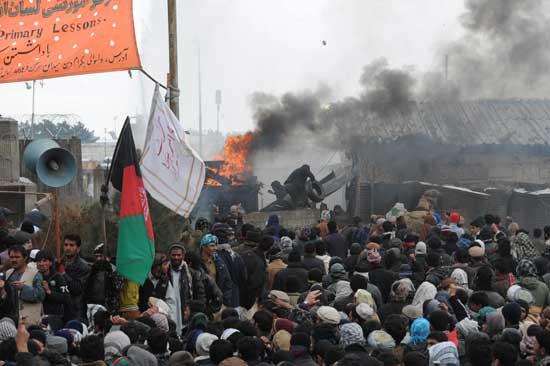 Protesters firing petrol bombs and slingshots besieged teh largest US-run military
base in Afghanistan, furious over reports that NATO troops had set fire to copies of
the Koran.
A local hospital said at least one person was killed and a dozen injured.
Witnesses at the protests said security guards were firing into the air and there were also reports of people chanting pro-Taliban slogans.
Also on Tuesday, the US commander in Afghanistan, General John Allen issued an apology and ordered an investigation into the incident.
The White House also echoed the military officials, saying the alleged act does not represent US values of how the Quran ought to be treated.
White House Press Secretary Jay Carne said: "We apologize to the Afghan people and disapprove in the strongest possible terms. This was a deeply unfortunate incident that does not reflect the great respect our military has for the religious practices of the Afghan people. The military leaders have apologized, as I mentioned, for these unintentional actions, and ISAF is undertaking an investigation to understand what happened and to ensure that steps are taken so that incidents like this do not happen again."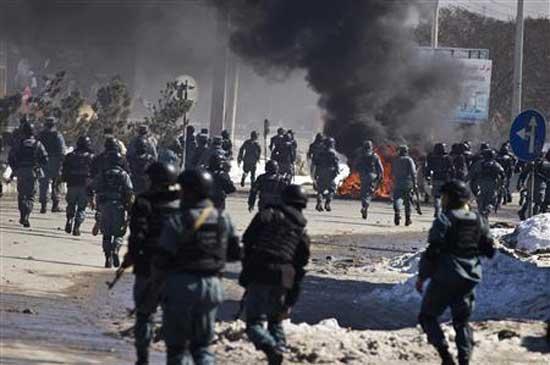 Afghan policemen march towards protesters during a protest near a U.S. military base
in Kabul February 22, 2012.
Related stories
Editor:Zhang Rui |Source: CNTV.CN