Watch Video
Play Video
Syria's Foreign Ministry Spokesman Jihad Maqdisi said in a news conference on Wednesday that calls for arming the opposition constituted an aggressive act against his country.
Jihad Maqdisi said: "We consider these declarations an aggressive act against the Syrian Arab Republic. Any party that issues such declarations will carry the political responsibility for the bloodshed of the Syrians. We would like our brothers in Qatar, Saudi Arabia and all other brothers to cooperate in rationalizing the opposition and pushing it to dialogue."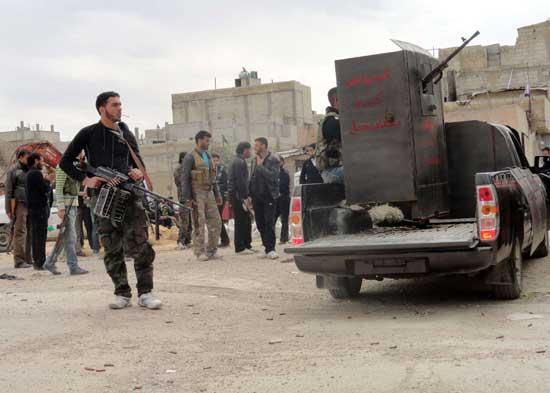 Members of the Free Syrian Army are seen deployed in al-Bayada, Homs, February 29, 2012.
Qatar has called for an arming of Syria's opposition. Maq-disi's statement came as reports emerged on Wednesday that Syrian troops advanced on a key rebel-held area in Homs.
The forces appeared to be starting a ground operation to retake the area that has become a symbol of the uprising to oust President Bashar al-Assad.
On Tuesday, the UN raised its death toll for the almost year-long uprising to 7,500.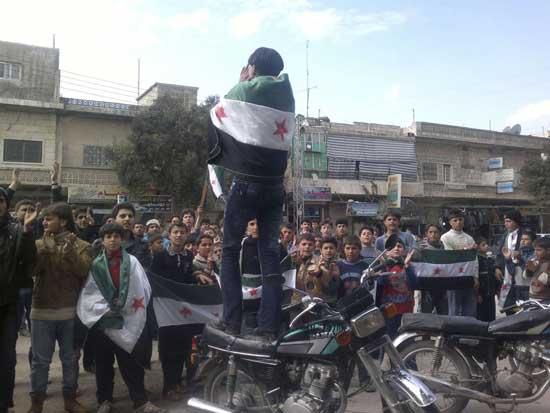 A man with a Syrian opposition flag draped over his shoulders stands on a motorcycle
during a demonstration against Syria's President Bashar Al-Assad in Kafranbel near Idlib
February 28, 2012.
Editor:Zhang Rui |Source: CNTV.CN