Watch Video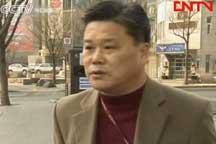 Play Video
Although The South Korean government welcomed the DPRK's agreement to suspend nuclear activities, citizens in Seoul expressed divided opinions over the issue.
Lee Jae-Deok, S. Korean resident, said, "Regarding the dialogue between the United States and North Korea, I like the agreement over denuclearisation on the Korean peninsula. It's a very positive sign."
Kim Sung-Jin, S. Korean resident, said, "North Korea has announced denuclearisation in the past, but then changed their mind. And they destroyed a light-water reactor, but it turned out to be just a show. Therefore we'd better not trust this agreement if we consider their past behavior."
Editor:Liu Fang |Source: CNTV.CN