Watch Video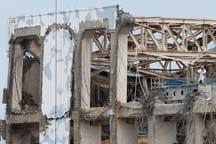 Play Video
Readings from Japan's Fukushima nuclear plant have shown that radiation levels in the No. 2 reactor building are still too high for human workers.
The readings released by the Tokyo Electric Power Company were taken by Quince 2, a robot designed to work in such conditions. Human workers have yet to enter the fifth floor of the No. 2 reactor.
Although nearly a year has passed since the nuclear disaster occurred, radiation readings are up to 220 millisieverts an hour. Most people are exposed to 2-3 millisieverts of natural radiation per year.
The first Quince robot was lost after it's signal disappeared, and it was subsequently unable to be retrieved.
Local media reports Tepco is planning to continue to use the robot for readings as long as levels remain high.
Editor:Liu Fang |Source: CNTV.CN