Watch Video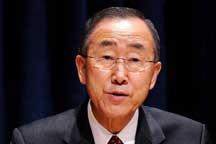 Play Video
Polio is a highly infectious disease and its especially bad for children here in Africa. In 2001, Angola became polio free, but four years later the virus re-appeared. UN Secretary-General Ban Ki-Moon is there to work with leaders on programs to eradicate the virus. Yang Tanli has the report.
UN Secretary-General Ban Ki-Moon is in Angola to help launch an eradication campaign, including the unveiling of a new Polio Vaccination Health Post in Luanda. He says Polio eradication must be treated as a public health emergency and he has praised Angolan authorities' commitment to fighting the disease.
CCTV's Yang Tanli said, "In Angola, circulation of an imported wild polio virus has persisted for a long time, and the country is classified as having re-established the transmission. The priority is to enhance the quality of supplementary immunization activities to interrupt the remain chains of the transmission."
From 2011, World Health Organization has helped carry out out a mass immunization campaign in Angola, providing children with an oral vaccine, and at the same time strengthening the monitoring of the virus.
Until now, in addition to Angola, there are four other countries where polio remains endemic: Afghanistan, India, Nigeria and Pakistan.
Editor:Liu Fang |Source: CNTV.CN