Watch Video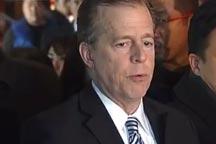 Play Video
Following negotiations in Beijing, the US and the DPRK have finally come to an agreement on Pyongyang's nuclear program. The DPRK has announced a suspension of nuclear activities and given access to inspectors from the IAEA.
The country says it is suspending its nuclear activity, including tests, long-range missile launches and uranium enrichment. It has also agreed to allow inspectors from the UN's nuclear agency into the country in return for food aid. The US State Department says it's ready to go ahead with a proposed 240,000 metric-ton food aid package and more aid could be agreed based on continuing need.
The move comes after talks between the US and the DPRK in Beijing last week. At the third round of negotiations, delegates from Pyongyang and Washington agreed it was in their mutual interest to ensure peace and stability on the Korean Peninsula and to improve relations.
Editor:Zheng Limin |Source: CNTV.CN