Watch Video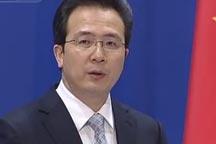 Play Video
The strained relations between the United States and the DPRK have taken a important turn, one week after talks in Beijing. Pyongyang has agreed to suspend its nuclear activities and have accepted a moratorium on long-range missile launches. As one step closer to a more stable and peaceful Korean peninsular, China welcomes the positive efforts by both sides.
The breakthrough between the US and the DPRK was announced on Wednesday after a third round of exploratory talks in Beijing. The progress deserves special recognition of the Chinese government, which has been a long-time advocate of peace on the Korean peninsula.
Hong Lei, Spokesman of China Foreign Ministry, said, "We praise the positive measures taken by both the United States and the DPRK after the bilateral talks; we also welcome that the two sides will do their part to improve the mutual relations to maintain peace on Korean Peninsula. China is willing to work with every party, pushing the six-party talks forward. "
Following the negotiations and deliberations by both sides, a suspension of nuclear activities and access to inspectors from the IAEA were agreed by the DPRK. They are positive steps to resume the Six-Party Talks.
"The six-party talks is an important mechanism to retain a stable and nuclear-free Korean Peninsula. China will keep up intensive communication with all parties, in order to resume the six-party talks." Hong Lei said.
Meanwhile, the US has agreed to meet with the DPRK to finalize the details of the food aid exchange. Over two-hundred-thousand tons of food from the US will be delivered to the DPRK.
Editor:Zheng Limin |Source: CNTV.CN