Watch Video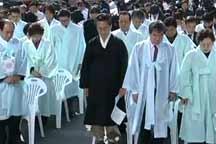 Play Video
South Korea is marking the 93rd anniversary of Korea's uprising against Japan's colonial rule. As the country marks the historic event, South Korea is calling on Japan to apologise to the women it forced into brothels during World War Two.
Residents in Seoul read the Recitation of the Declaration of Independence and also paid a silent tribute to the women who were forced by the Japanese troops to work as prostitutes during the Second World War.
During the 1930s and forties, hundreds of thousands of women, mainly from Korea, China and the Philippines, were sent to brothels to serve Japanese soldiers.
Kim Young-Jong, Mayor of Jongno Borough Office of Seoul, said, "Even though over a thousand rallies have taken place by those comfort women to get an apology from the Japanese government, Japan speaks on the contrary; that they are not aware of such sexual slavery. I think it is completely unforgivable."
South Korea's President Lee Myung-bak attended the ceremony in Seoul and urged Japan to resolve the World War II grievance.
Lee Myung-Bak, South Korean President, said, "Genuine courage and wisdom, not ignoring the truth of history, are necessary more than anything else if the two countries are to work closely together as genuine partners. In particular, the issue of military comfort women is a humanitarian matter that should be resolved at an early date, among various pending issues. Many of the surviving comfort women are well over 80 years old and may die soon. If those comfort women pass away without resolving their resentments in their hearts in their lifetime, this doesn't mean that all issues are solved, but rather it means that Japan will forever loose its opportunity to solve this issue."
For years, the women have staged weekly rallies at the Japanese Embassy in Seoul, demanding an apology and compensation from Tokyo.
In 1995, a fund was set up by private donations in Japan, as way to offer compensation to the former prostitutes, without providing official compensation.
But many of the comfort women have rejected the fund, demanding a government apology with official compensation.
Related stories
Editor:Zheng Limin |Source: CNTV.CN