Watch Video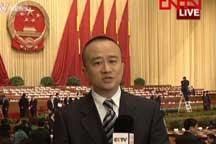 Play Video
CCTV reporter Han Bin is now standing by in the Great Hall of the People. For the latest on this morning's opening of the NPC, let's go live to him now.
Q1. Han Bin, in a short while, Premier Wen Jiabao is going to deliver his government work report to the lawmakers. Take us through the process of drawing up that Report.
A: What my sources tell me is that the premier himself is very hands on, from the content and structure, to the very language. Over several months, the original draft has undergone many revisions. The State Council and the Politburo and more than a hundred government organizations have studied it. Opinions were also solicited from the non-communist parties and experts and officials in various fields. Wen Jiabao wants to stress an active response to social concerns and a pragmatic attitude towards work. He wants the report to clarify the government's solutions to China's major problems. We'll see how he does it in about half an hour.
Q2. You've been covering the Political Season for over a decade. What's different this year? What are some of the highlights?
A: This is the fifth and final session for the 11th NPC. For many deputies, this is their last chance to speak out and vote. Big changes are in store, especially for the Criminal Procedure Law. Respecting and protecting human rights, will be written into it. There will be 100 amendments to the original one, in areas like forced confessions, secret detection and mental illness. The revision will bring China in line with international practice. There's also the draft for the selection of new deputies next year. Urban deputies now outnumber rural ones, four to one. That will change to one to one. About 2000 deputies will be elected in this section. And every ethnic minority and region, regardless of size, will have at least one seat. It will be interesting to see how this affects influence and input.
L>
Editor:Zhang Dan |Source: CNTV.CN