Watch Video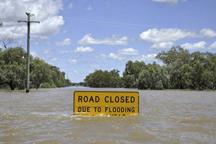 Play Video
One man has been killed in south eastern Australia as floods continue to affect large parts of the country.
The body of the 43-year-old was found Sunday morning after being washed down a swollen river near Araluen, New South Wales.
Further west, heavy downpours across the Riverina District in southern New South Wales caused major flooding. Five towns with about a thousand people have been evacuated in the region in the past 24 hours.
A flood warning sign starts to disappear below floodwaters near Charleville, about
685 km (426 miles) west of Brisbane February 6, 2012.
In Wagga Wagga, one of the local caravan parks, was inundated and a number of residents were helped from the cabins by emergency workers in boats.
In northern Victoria, it is a similar story, with houses and shops struggling to cope with the flood. Water levels in the areas are expected to remain high for the next 24 hours before receding.
Flood-affected livestock gather on a patch of high ground near the town of Moree,
about 610 km (379 miles) north of Sydney February 3, 2012.
Editor:Zhang Rui |Source: CNTV.CN