Watch Video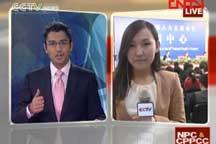 Play Video
Today, another highly concerned press conference is taking place in Beijing at 3 pm local time, during which the country's top economic planner, NDRC, will be open to questions on macro economic governing and related issues. The conference is among the agenda of NPC's annual session, which kicks off on Monday. Our CCTV reporter Guan Xin has attended the meeting, and now she is standing by, bringing us the latest on that.
Q1: As we've already known, the GDP target this year has been adjusted down to 7 and a half percent, as premier Wen reported, following other figures unveiled, all showing, as analysts say, a growing mature view on the country's growth. So what's NDRC's illustration on that as you've heard on the conference?
Q2: Let's focus on something specific on the reform.
Q3: Move on to another issues related to reform, the energy prices. China is geeting more and more exposed to global shifts in energy prices in the coming year. The NDRC said it is planning to reform coal, natural gas and domestic fuel prices in 2012. Did it offer more details about the plan during the conference?
Editor:Liu Fang |Source: CNTV.CN