Watch Video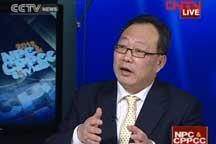 Play Video
Today, another highly concerned press conference is taking place in Beijing at 3 pm local time, during which the country's top economic planner, NDRC, will be open to questions on macro economic governing and related issues. The conference is among the agenda of NPC's annual session, which kicks off on Monday.
Q1: What is the nature of National Development and Reform Commission, tell us how it works in general?
Q2: As an important sector of economic macro-control, NDRC possess the responsibility of maintaining a sound economic growth, so how does it maintain the national economy?
Q3: In making the decisions for China's national development, what is NDRC's reliance in the policy-making?
Q4: The emphasis over the past years has been on improving people's livelihoods. What 's your view on the achievements so far?
Q5: Speaking of improving the livelihood, CPI is the figure closely related to people's daily life, and the past year saw the CPI increase of 4% year-round, what do you see this 4%?
Q6: In maintaining daily product prices, such as food and oil, what role is the NDRC playing on this issue?
Q7: New energy is another hot topic recently, so Mr. Li Yong, what do you see China's investment on New Energy Program?
Q8: Developing new energy is a major step to tackle the global warming, which China says it will reduce 40% to 45% carbon emissions per capita GDP by 2020, what do you see this commitment?
Editor:Liu Fang |Source: CNTV.CN