Watch Video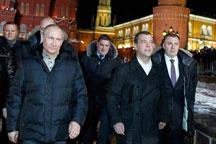 Play Video
Vladimir Putin has won Russia's presidential election with over sixty per cent of the votes. This will make him the most powerful man in Russia for the third time, with potentially, another 12 years term in the Kremlin.
Official figures from the Central Election Commission show that Putin had been in the leading position, which is enough for him to avoid a second round. With the victory, Putin has obtained a third term in the Kremlin following his two consecutive terms in 2000 and 2008.
Vladimir Churov, head of Russian Central Election Commission, said, "The president of the Russian Federation, according to preliminary data, I ask you to show it, is Vladimir Vladimirovich Putin with the preliminary result of 63.75 percent, with more than 45 million of electorates' votes."
Putin declared his victory with tears streaming down his face on Sunday night. He called on all Russians to unite around the interests of the people and the country. He also pledged to fulfill his campaign promises.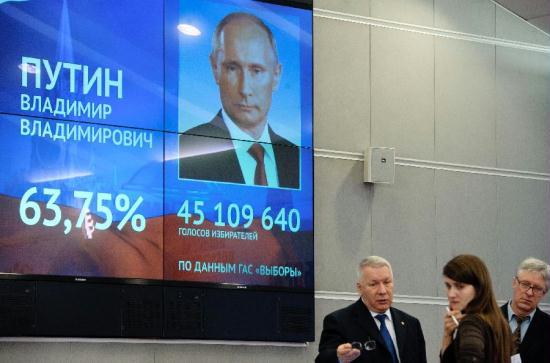 The photo taken on March 5, 2012 shows the preliminary results of Russia's presidential
election on the screen in the hall of the Russian Election Commission (CEC) in Moscow,
Russia. Russian presidential candidate and incumbent Prime Minister Vladimir Putin won
Russia's presidential election with about 64 percent of the votes, the CEC officially
announced Monday.
Putin said, "We have won in an honest and fair combat. But it was not just an election to decide Russia's president. It was a very important test for all of us, for all our people.We have shown that no one can impose anything on us. We have shown that our people are able to tell that they wish for something new, for renovation, from political provocations which have only one goal: to destroy Russia's statehood and to usurp power. We have won today also thanks to overwhelming support of the overwhelming majority of our voters. We had a clean victory."
Putin, riding a wave of popularity for his bold military actions against Chechen rebels, his no-nonsense incorruptible image and his promise to rejuvenate the Russian nation, won the presidential election in 2000. During his first term in the Kremlin, the steady economic growth and political situation at home cemented his victory in the re-election as president in 2004. But for his third term, many Russians are hoping for reform.
"We hope that Putin will come to the conclusion that he needs to make changes, so that at last we get the changes that we have been waiting for since 2004."
In his election manifesto, Putin promised to develop an innovation-oriented economy that benefits the people and implement political reforms on the premise of stability. He pledged to nominate the outgoing president, Dmitry Medvedev as prime minister in the new government. Putin will be inaugurated as President of Russia early in May.
Related stories
Editor:Shi Jierui |Source: CNTV