Watch Video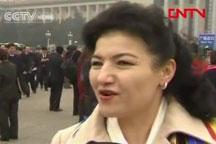 Play Video
Deputies believe the 7.5 percent growth target for 2012 is appropriate to the country's development.
Chen Zhangshui, delegate from Anhui province, said, "Considering the current economic development situation both inside and outside China, we have clearly stated that China's economy will grow at 7.5 percent. This is very appropriate to the current international and domestic economic development and suits the real situation in China."
Zulifeiya Abudukade'Er, Ethnic Uighur delegate from Xinjiang Uighur Autonomous Region, said, "I think what's most important is that this report was very realistic, because over the last two years the central government did a lot to improve people's livelihoods. This year's government work report was a great summary of five aspects, including the issue of people's livelihoods and the economy. As a delegate, I am very happy."
Editor:Shi Jierui |Source: CNTV