Watch Video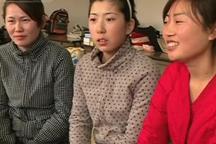 Play Video
It has been a year since an earthquake measuring 9.0 on a Richter scale hit Northern Japan and a major Tsunami devastated towns and cities in over a 500 km stretch of the country's eastern coast. There were also many Chinese residents who experienced the twin disaster as some have decided to return to Japan for work. Our correspondent Terrence Terashima visited a company in Japan where Chinese and Japanese employees struggle to recover from the disaster.
An immense tremor followed by massive tsunami engulfed the city of Ofunato on March 11th, 2011. More than 400 lives where lost, over 3,600 houses and buildings were destroyed by the disaster.
China employees said: "We were so scared. We were worried if the building would stay standing"
City of Ofunato was rich in fishery resources, and like this canned fish factory Morishita Fisheries, many Chinese nationals were working in factories in the city when the disasters struck. Tiang Xiao Mei, a three-year veteran worker recalled the days she spent before returning to China.
Chinese employee Tiang Xiaomei said: "We had no food, no water and electricity, so we had to take shelter in evacuation center until we went back home. We were lost."
They managed to escape but the factories were destroyed, engulfed by the tidal wave. Mikio Morishita said he had to lay off all of 100 employees including 19 Chinese nationals.
Mikio Morishita, president of Morishita Fisheries Company Ltd. said: "None of us had experienced such a disaster. I remember the Chinese employees leaving for home saying how worried they are about what would become of city they had lived, and this company."
Reporter: "Many had thought it would take a year of even longer for the town to recover and companies rebuilt. Some are luckier than others, like Mr. Morishita's company who managed to rebuild some of its operations within six months from the disaster. But for the Chinese employees it was a hard choice. Many of the family members were against for them to comeback."
Tiang said: "My child was Crying Mama do not go, I am worried about you."
Chinese employees said: "Our families have told us not to go back as there might be another earthquake. But we wanted to take part in rebuilding the company.
Tiang Xiao Mei and her Chinese colleagues say, the city had become their second home and had become attached to this Japanese town. They wanted to be a bridge between the Chinese and Japanese communities.
Tiang said: "I wanted to see the company rebuild. I wanted to see the city recover. I respect Mr. Morishita for his efforts and I love working here."
Gradually Chinese nationals that lived in disaster stricken cities are said to be returning. Local communities say they welcome the foreign nationals returning. They said it was also a motivation for the residents to move forward.
Editor:Zhang Rui |Source: CNTV.CN