Watch Video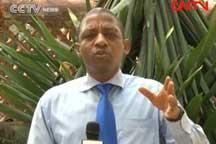 Play Video
Twelve years ago at the start of the new millennium, the international community agreed on a set of development goals to improve health standards and reduce poverty among the world's poorest people. The deadline was 2015, but three years ahead of schedule, Africa is assessing its progress. And despite some advances, there is still a major stumbling block corruption. CCTV Correspondent Chima Nwankwo reports from Nigeria.
The prognosis is good. In the year 2000, all 193 United Nations member states agreed to achieve 8 developmental objectives bordering on eradicating extreme poverty, reducing child mortality rates, fighting disease, and developing a global partnership for development by 2015. 3 years shy of the deadline Africa has already achieved 4 of the 8 MDGs.
Charles Abugre, Africa coordinator of UN Millennium Development Goals, said, "We are quite close to achieving some of the goals. Goals 2, 3, and 4 are achievable. Every country on the continent will achieve at least 2 goals."
While much of the assistance that is enabling Africa find its feet is based on foreign Direct Investment, research shows that for every dollar of aid that is spent in Africa,10 dollars leaves by way of capital flight through illicit financial flows. Conflict is another issue that weakens local micro economies and effectively ensures that the continent gets caught and stays in what Economist "Jeffrey Sachs calls the poverty trap."
Nelson Muffuh, coordinator of UN Millennium Development Goals, said, "Corruption is having a negative impact but we are working with stakeholders to ensure that we can do something between now and 2015."
Auwal Rafsanjani, civil society activist, said, "Corruption is corruption. There are all types of corruption."
In an age where people are seduced by fancy figures and snazzy. Power point presentations, the UNMDGs office believes it is time for African Leaders to look inwards for solutions to homegrown problems and revive the real sector of the economy.
CCTV's Chima Nwankwo said, "But while the picture appears rosy, corruption has proven a stumbling block. Graft notwithstanding, countries appear to be on track in attaining the Millennium Development Goals with miles to spare. What is coming to light now is that the UN may have set its sights a bit low. Like motivational experts like to say, whatever you do think big."
Related stories
Editor:Liu Fang |Source: CNTV.CN