Watch Video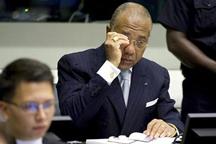 Play Video
Former Liberian leader Charles Taylor is the first African head of state to be tried in person for alleged crimes committed under his leadership. After a three-year trial, he will learn his fate later this year.
However his lawyers have accused the International Criminal Court of being politically motivated by singling out only African leaders.
Former Liberian President Charles Taylor is seen at the U.N.-backed Special Court for
Sierra Leone in Leidschendam, the Netherlands, August 5, 2010.
On the face of it, the facts speak for themselves, sitting are former presidents, rebel leaders, powerful individuals with political connections all accused of one thing, crimes against humanity.
Former rebel leader turned President Charles Taylor is one of them after a three-year trial, he is waiting for judgment in a trial against crimes against humanity.
Reporter: "However not everybody agrees it was Charles Taylors defense attorney Courtenay Griffiths who noted during his trial that everyone currently being tried or awaiting trial is, you guess it - African."
This has led to criticism that this is selective justice.
Tharcisse Karugarama, Minister of Justice of Rwanda said: "After this guy from Yugoslavia, the rest of the guys are Africans. I have not seen any big guy from Europe being introduced before the court."
There are currently seven cases before the court, with one against Thomas Lubanga set for judgment this Thursday, while former Liberia President Charles Taylor is set to know his fate later this year.
And despite sharp criticism from African union member states that the ICC is a western backed court that specifically targets African countries.
Ironically of the seven cases, five were actually government referrals, this together with the fact nearly 2/3, 31 of Africa's 53 countries are signatories to the Rome Statute that established the court's authority.
It is estimated 60% of the ICC's budget is funded by European countries. Since its establishment in 2002, the court has spent a staggering half a billion euros. In that time no one has been successfully been convicted for the crimes they are charged against.
Tharcisse Karugarama said: "Some places things are done that would amount to crimes against humanity, but I have not seen any ICC indictments."
But critics also say the ICC's capacity is limited by the fact that not all five of the permanent members of the UN Security Council have yet signed up."
Editor:Zhang Rui |Source: CNTV.CN