Watch Video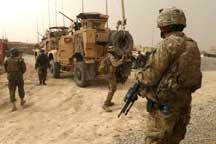 Play Video
Debate over the stresses of being deployed to a war zone continues following the Afghanistan killings. A US military official said probable cause had been found to keep holding the suspect.
Many voices in the US are urging more attention to the stress of soldiers in war zones. And some say it's time for the US military to withdraw from Afghanistan.
US soldiers keep watch at the entrance of a military base near Alkozai village
following the shooting of Afghan civilians allegedly by a rogue US soldier.
Adam Smith, US congressman, said, "You go off to war and all the policy decisions that are involved in it, it comes down to the individual and what they are going through and I think you cannot do enough to try to pay attention to that and try to deal with the challenges that are brought up."
"Well based on my interaction with the Afghan people during my trips there and some of the members of parliament have come to the United States. I think they are conflicted, yes on a very base level, they want us gone. It's their country, nobody wants a foreign military in their country, but they are legitimately afraid about what would happen with the Taliban and they see the security presence and the benefit it's brought. At this point though, I really do believe the Afghan people are ready to have our troops gone and to take responsibility for their own country."
Related stories
Editor:Zhang Dan |Source: CNTV.CN